Christmas Block Swap Sweeties
This week I received my swap blocks in the mail and I am thrilled beyond my wildest dreams with all of them. To quote Vivian what a bunch of cutie patooties!!!
What a lovely bunch of blocks these are:
Aunt Pitty Pat made this one. I love polar bears and check out that cutie patootie bird. Love, love this block and since a couple people flaked out on the swap she was sweet enough to send me two of these and kept two of mine in exchange. I can't thank her enough!!! I love this guy's adorable little face. Also a big huge thanks to her for hosting this swap. I seriously hope she plans to do it again next year because I would certainly want to participate in this swap again.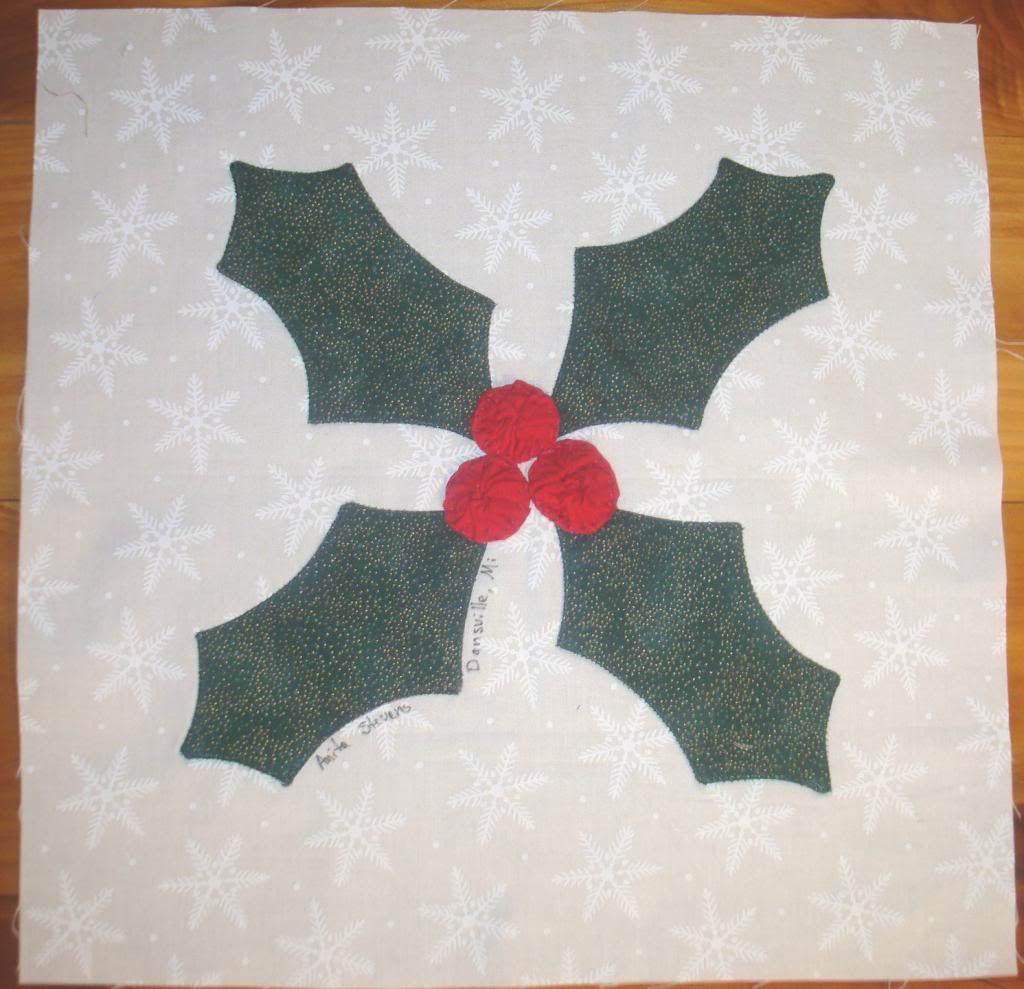 A big thanks to Anita, I love this holly with the yo-yo holly berries. Simply beautiful!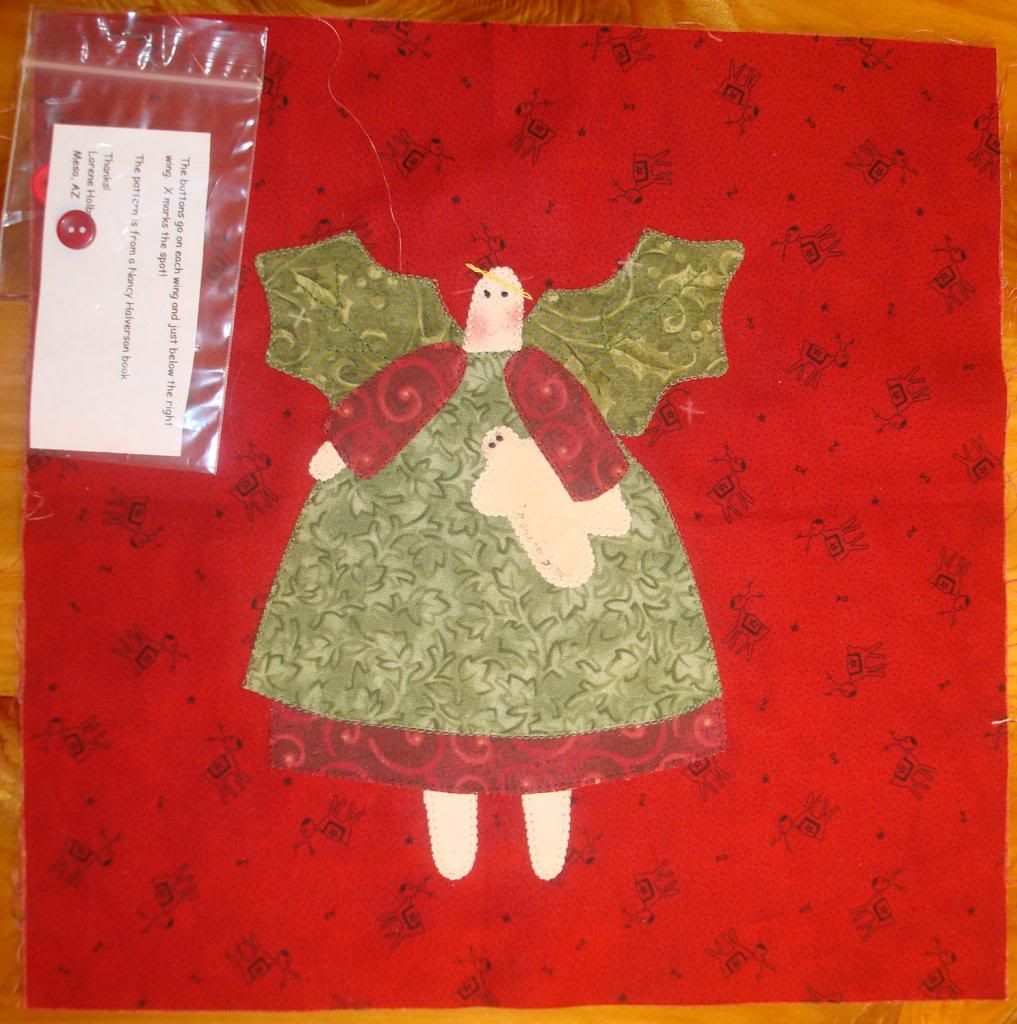 Lorene sent this one with red buttons to put on her wings. I love her choice of fabrics and this is the sweetest Angel I have ever seen. Bless you Lorene for making her for me I will cherish her.
I am not sure who made this block but I am in awe of how much work went into
making 12 of these to swap. It is fantastic!!!
What can I say except Freaking Phenomenal!!!
Janet must have an awesome embroidery machine. I am so thankful to her for sending this my way. Never in a million years would I be able to make this for myself .
I will forever cherish it!!! He is adorable and reminds me of how happy my husband use to be when he was younger putting up his many Christmas lights...now he just grumbles... he he he...
Wowwza!
Janice out did herself, too. How perfect a Santa is this. Outstanding and great fabric choices. I tell you these ladies are making me want an embroidery machine.
I don't know who sent this one, either, but thank you. He is so cute and he fits in so perfectly with all the others. Love his happy little smile.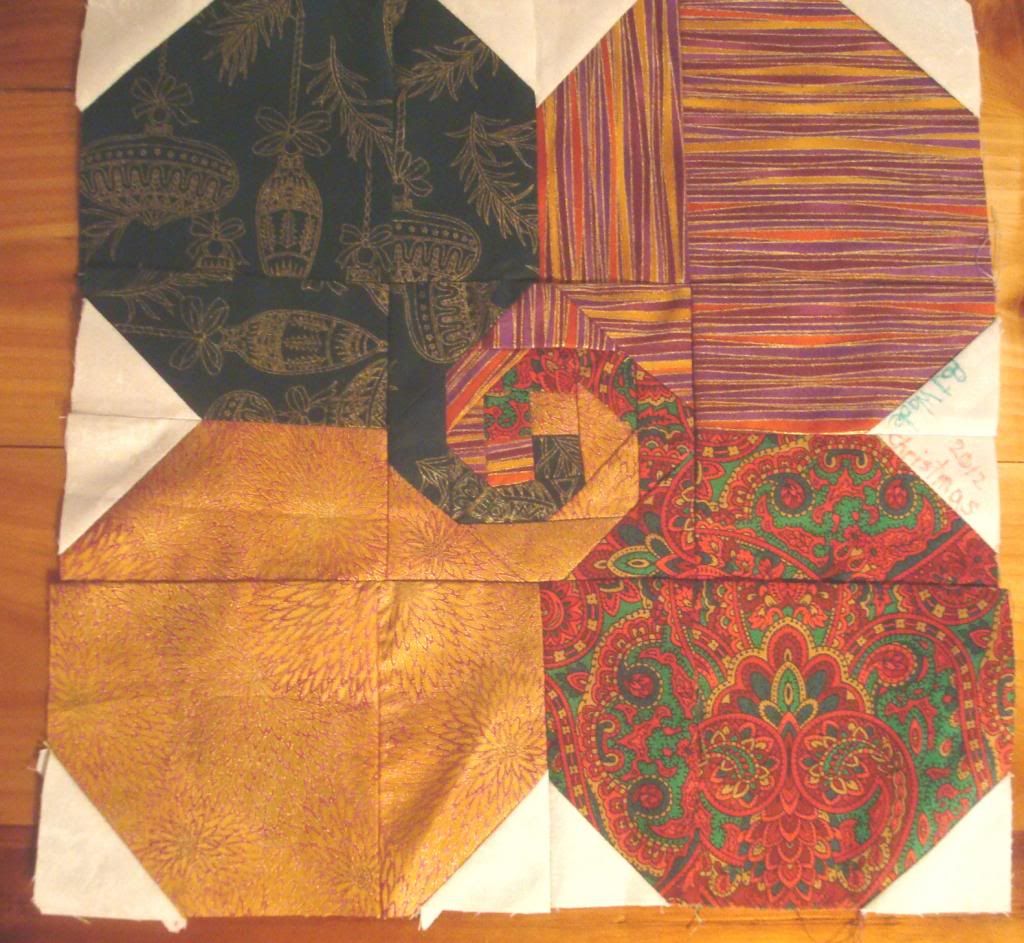 Pat made this one and her four ornaments are really incredible. I love how their hooks swirl in the snail trail together. Again a lot of work and love went into the making of this block and I am so lucky to get to put it into this sampler quilt to enjoy for years in my home. The colors again work beautifully with all the other blocks.
I love this little whimsical tree that Cathy made. I love her fabrics and her embellishments, it is just simply wonderful.
And of course one of mine to keep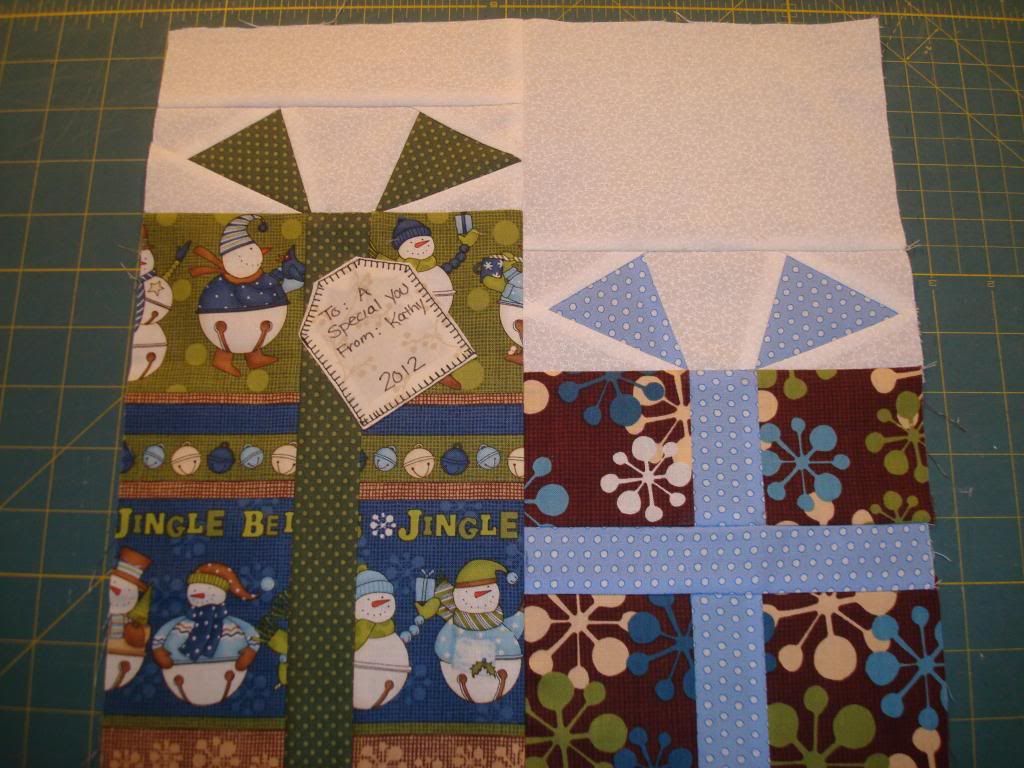 and one of these back.
I can't believe how absolutely freaking perfect they all look together!!!
When I lay them out on the floor they make the perfect combination of all the colors.
White, blue, red, green, gold, cranberry, even brown.
They all look great together!!!
Now I just have to come up with the perfect sashing and these are going to make a great lap quilt for me to snuggle with next year at Christmas time.
A HUGE THANK YOU to all the special ladies who made these blocks.
I could never thank you enough.
May 2013 bring you all many Blessings!!!