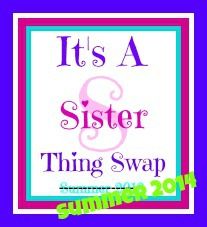 This summer I had the pleasure of taking part in the 'It's a Sister Thing Swap'' that Michele from
Quilts from my Crayon Box
hosted for the second year. I mistakenly didn't take part last year and almost had myself convinced it would be hard to make time for it this year with my busy summer schedule. Luckily, I committed and found time because it was a blast. If you missed my earlier post about what I received from my assigned 'sister' here is a picture of the great treasures that Mary from
Needled Mom
made for me and here is my
previous post
when I received them.
She did a wonderful job making me feel so spoiled and pampered! It was so fun opening up all the presents she had individually wrapped and ohhhing and ahhhing and with delight with each new find.
While Mary was busy stalking my blog and choosing what to spoil me with I was busy stalking Grace's blog
City Mouse Quilter
. I read her blog front to back but a couple key points struck me immediately.
1. She loves going to the beach but needed a nice quilted tote bag to take with her.
2. She loves Kaffe Fassett fabrics but seemed to be collecting them and I can relate they are so gorgeous to oogle at who wants to cut into them. I'm in the same boat and hadn't really put them together into a project yet so that was added to my to do list.
3. She is really into Civil War fabrics and reproductions and I happened to have some that I didn't like---(they'd make great hand me downs to my new sister)
4. She likes Spearmint tea and Pumpkins --- never found the Spearmint tea and ran short of time for a pumpkin project and although fall is fast approaching it just wasn't the right time in the peak of summer.
5. She would love to go on a Bonnie Hunter trip but fears flying. I so related to that. After 2011 I just lack the confidence to board a plane but would love to travel. I also would love to see my grandchildren grow up so it is safer to stay on the ground.
With the above facts, I set to work on a pillow top cover using my Kaffe Fassett fabrics. I had seen this pattern in the June 2005 issue of The American Patchwork and Quilting magazine that Ricky Tims designed called 'St. Elmo's Fire'. It is a paper pieced pattern that I envisioned would showcase the Kaffe fabrics wonderfully. I have never made a pillow cover before and must say I might be addicted to them now. I can't wait to find the time to make a few of these babies for me.
Here's what attracted my attention but as you can see it looked a little crazy and was in need of a little modernization. Here is how it translated into a pillow for Grace featuring Kaffe fabrics.
I really think it looks much better with the one, neutral color for the background. It helps the Kaffe fabric's be the stars they deserve to be.
Next I set to work designing a tote bag for Grace. She lives near Cape Neddick lighthouse...at least I think she does so I tried to draw it out in one corner of the bag. I added some ships to the harbor.
On the backside of the bag, I put her name and a lobster that I got the pattern of Janeen from
Quilt Art Designs
. I shrunk the lobster down a bit so it would fit my area but it did make it a little tougher to paper piece but I somehow managed. Not the best decision but it worked out. Grace loves her lobster and I had to have him on there. I added a zip pocket to the inside and a divided pocket on the inside too for stashing things in there where you might want to find them quickly. I based my bag on this free tutorial you can find
here
. I substituted my panel for the canvas it called for but otherwise followed this pattern and added pockets to the inside.
The pocket has little mice on it and it just stuck me as appropriate for the City Mouse Quilter but honestly it never crossed my mind when I was making it...he hee hee. In the mood to truly spoil Grace, as August 27th was her 65th birthday, I decided to add a Journal to my list of must makes for her.
I added the Tim Holtz metal piece to it. It reads---encourage your hopes not your fears---
I thought this to be great advice but not always easy to manage. The girl was an orphan block I made a few months ago for a project I am still having trouble getting off the runway and probably will be junking so I thought it would make the perfect journal cover. She was inspired by art from Andrea of
Southendgirlart
that I found on Pinterest and is one of my few attempts at sketching on fabric.
Last but not least I threw in the hand me down fabrics to pass along to Grace and a new pen to start her off journaling with. Happy Birthday Grace and best wishes for a great year ahead! I really enjoyed being your stalker sister this Summer and passing on some goodies to you.
A big heartfelt hug and many thanks to Mary and Michele for making this swap so special for me!!!
Bless you both for helping to make my busy Summer extra special and full of smiles and creativity :)
Keep Stitchin'